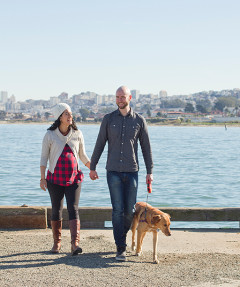 August 10, 2017
Bump to Baby
San Francisco

I first met this couple for their maternity session at Crissy Field, aren't they so cute?
I think it's fun to tell the story of the place you live. For a bump-to-baby photo package, I recommend selecting an iconic location for your maternity session, and then scheduling your newborn session at home.
That way, when you see the series together, there is a combination of amazing views, mixed with cozy shots with your new baby. Needless to say, it's rather ambitious to think that you'll be up for adventuring any place with a newborn, so it's great to scratch that itch before he or she arrives.
What do you think of these shots? I love seeing their joy as a couple, and when their son appears on the scene. You can tell their dog is beloved, too. So much joy!
If you want to see more of my latest photos and creative adventures, please pop over to instagram and tap follow.