July 5, 2012
Cleveland – Black and White Photography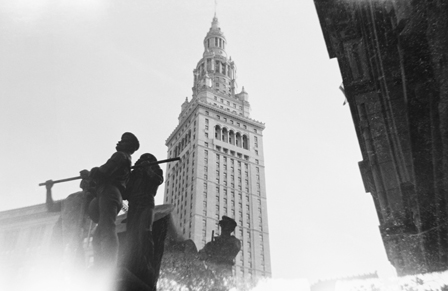 Just got some film back from my favorite lab — I had a mystery roll in the batch, and was unsure of what it would have on it. It had been sitting in my camera bag for awhile, and I halfway thought it was unprocessed, so I actually put it through my Brownie again (upside and backwards!), which gave the faintest hint of a double-exposure and made the photos look even more "old."
I shot these photos in June of 2011, just over a year ago, when I was in town visiting with family and friends in Ohio. I had such a great time that I shortly thereafter decided to move from NYC to Cleveland! So, these images have extra special significance for me personally. They were all shot on a Brownie camera on black and white stock, so they're super retro, too.
A lot of the amazing downtown Cleveland landmarks look just as they must have back in the day, and I think it looks like these images could have been taken back then! Of course, the Huntington Building and Progressive Field in the last two shots give it away, but I do like the juxtaposition of the vintage and the modern.
Limited edition prints of these images are available for purchase. Please inquire: [email protected].