April 15, 2013
Q&A: iPhone Photo Organizing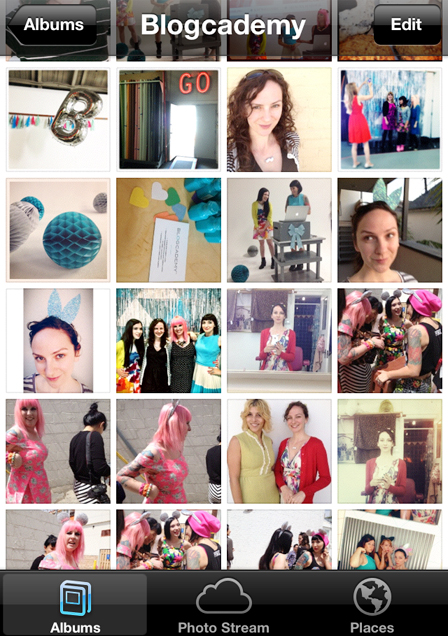 Q: What is the best way to organise picture files on the iPhone camera/iPhoto? I get so confused about albums vs streams. Thanks! –Xandra Burns, Oxford, UK.
A: An important consideration for archiving your images is what you might want to do with them in the future.
As a professional photographer, there are a variety of uses I might have – a future blog post, potential stock photography sales, or simply sending a photo thank-you card through my iPhone.  So, for me, it makes sense to save everything.  About once a month, I use Image Capture to back up the entirety of my iPhone contents to a dated folder.  In any given month, I'll have from 1,000-2,000 photos on my phone, so Image Capture works best.  A lot of people swear by iPhoto for its slick interface and preview abilities, but it is simply not as fast when backing up images in bulk.
In terms of the difference between albums and streams on the iPhone itself, I use albums to simply review several images from one session (one location, one subject matter, etc.), and streams when I want to share a selection with one person or small group of people (usually my family). 
Albums are a great way to separate out several images for compare and contrast while you're photo editing on the go.  If you have an ongoing collection — say, vintage bicycles — then every time you get a great shot of that subject matter, you can add it to your album for easy reference.  This is ideal for ongoing blog series, social media posts, etc.  In the vintage bike example, by reviewing in albums, you can see that you shot a red bicycle yesterday and the day before, so maybe you want to put today's yellow bike shot in the middle to mix things up and create a sense of variety. 
Use albums to organize by subject matter, vacation, location, person or group of people, your pet, etc.  On my iPhone, albums tend to be temporary.  I will create one while I'm on a trip (see sample at the top of this post from my trip to LA for The BlogCademy), and put my selects from that trip into a place so I can decide on the highlights and what to feature on social media.  Once I get home and back up all of the files, I permanently delete the album (and all of the photo contents) from my phone.  I simply need the space for more photos!
A stream is something with which you can give access to certain photos to other people.  When you create a new stream, it will prompt you to enter the email addresses with which you'd like to share the stream.  I mainly use this option when I want to share images of my niece and nephew with their parents and grandparents, for instance.  Above, you'll see a selection of photos I shared via stream with my Dad, after spending the day with him in San Diego this January.  If you have a business partner or significant other with whom you frequently share images, having a mutual stream is a fun way to keep in touch.  If you want to share with a lot of people, social media is your best bet — especially Instagram.  Yes, this means you have to upload one at a time, but meanwhile, you get a chance to edit more selectively and share only your best shots. 
When sharing images professionally, I swear by Dropbox.  And, when you need to share them quickly with another device of your own, you can use Dropbox or Instashare.
Thanks to Xandra for submitting this excellent question.  Hope my response helps! Please use the comments below for any follow-up questions.
Have a iPhone photography question of your own?  Submit it to [email protected] and it might get answered right here on Q&A Mondays!