April 28, 2012
3D Sample Reel Has Arrived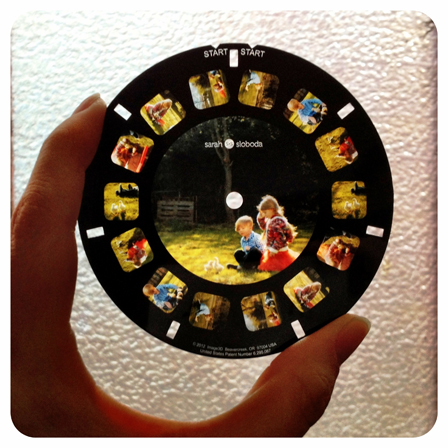 When I put together the Sawyers' 3D reel, I was sensitive to making sure the photos worked in the format.  It was a new and tricky procedure to shoot in stereo, as the subject of the photo needed to be relatively centered in not one but *two* slightly different frames.  With moving child and baby chick subjects, not to mention the added complexity of shooting on a telephoto lens (had to be further back from the action than I'd normally prefer), shooting in 3D had me stretching my compositional and timing skills to the max. 
What a thrill when the reel and viewer arrived and were a huge success!  I have included a couple of photos here to try to paint the picture, but nothing compares to having the viewer in your hand, pressing the lever, and having these vibrant images spring out before your eyes in 3D.  For those of you local to Cleveland, I hope you'll join us for a special event on June 24th at Noodle Cat downtown, where you'll get to try the viewer in person, and check out some of my other work.
You and your child will adore seeing your own custom 3D reel.  The vibrance and clarity of stereo photography is nothing like any kind of imagery you've seen before. 
When you book a regular session with me this spring, you'll receive the requisite 3D coverage, 7-image reel, and viewer inclusive with your package.  Email [email protected] for a complete pricing brochure, or to request availability in your city.