June 6, 2013
Delights: Artichokes, Ceramics, Music + Paper
Roasted artichokes are one of my favorites.  What has tickled your taste buds so far this week?
If you've never roasted artichokes, it's a super easy dish, but a little time-consuming to prepare.  After cutting the stems and tops off the artichokes, I slice garlic into long slivers and shove 1-3 pieces in between artichoke leaves, sprinkle with salt, drizzle with olive oil, wrap in foil, and bake at 400° for about 50 minutes for babies (60-70 minutes for full size artichokes).  When I'm doing this for a dozen baby artichokes in a row, it starts to feel rather tedious (admittedly, I have a low attention span), but when I taste them, I always remember that the trouble was worth it.
When they're done, you want to start peeling back the leaves and eating the meaty stuff at the ends of them, until you get to the soft leaves inside.  You can gobble those whole, and work your way down to the delectable heart and bottom of the artichoke.  My favorite!  Do you have another artichoke recipe you love?
Besides influencing you in the kitchen, I wanted to share some of the work of artists who have been inspiring me lately – two visual artists, and a musical one.
I've been a fan of ceramic artist Kristen Wicklund for some time now, and I was delighted when she asked me to photograph her wedding in Far Rockaway, New York, last summer.  I recently mounted several of her crocheted lace ceramic pieces on this bright blue wall – don't they look striking?  She makes them by crocheting lace doilies and then coating them in ceramic clay.  When the clay is fired, the fibers burn out, leaving an amazing hollow lace piece.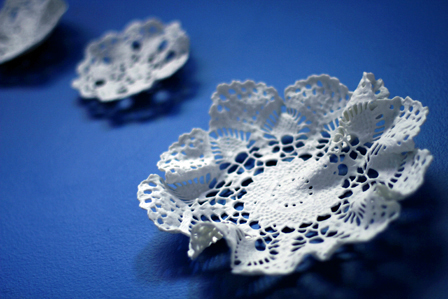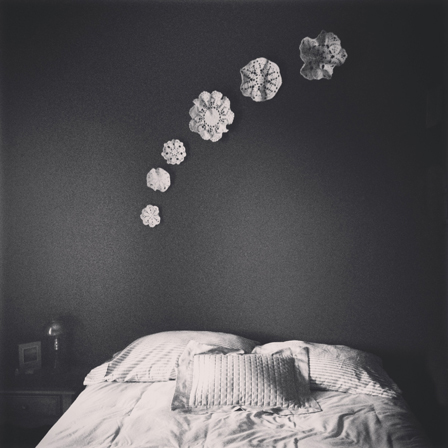 Kristen also made the berry basket featured in the artichoke photo above.  Have you seen my selfies on Instagram in the past 6 months or so?   See how many times you can spot me sporting the peanut necklace she made.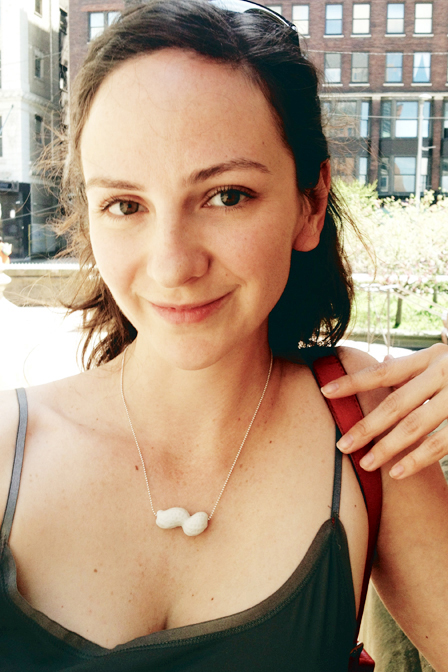 Lindsay Ward is a children's author and artist who illustrates her own books using cut paper.  My niece and nephew love her book, When Blue Met Egg, about a young bird's adventure in NYC.  Paper is her medium of choice, and she uses it in a variety of ways — including gorgeous stationery suites.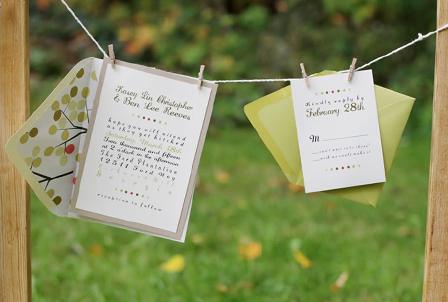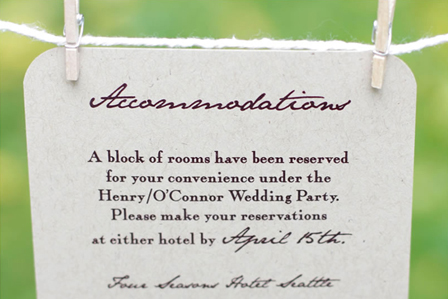 I'm a bit of a paper freak myself, and have hired Lindsay to create amazing stationery for my photography company and for Christmas cards.  I also had the good fortune of photographing her invitation line for her newly launched website, Borrowed & Blue Invitations.  I loved seeing her gorgeous site go live this week.  Hooray for indie artists and entreprenuers!  Have any inspired you this week?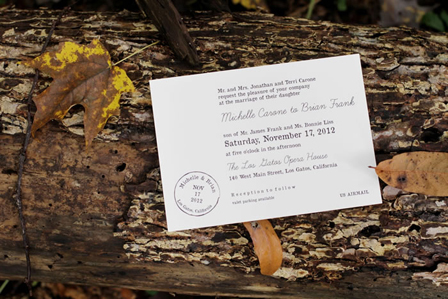 MUSIC!  I am super into this new song by Daft Punk featuring Panda Bear called, "Doin' It Right."  It's like a digitally-inspired version of a musical theater number with a counter-melody. Give it a listen, and let me know what you think!  I've been dancing around to it all day.