March 26, 2017
Kids in Space: Seattle Central Library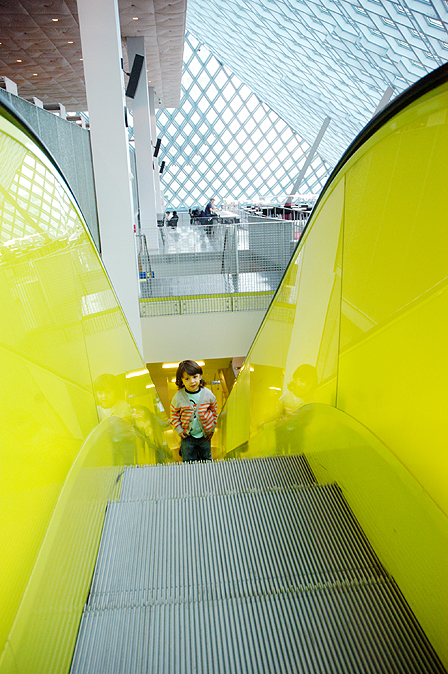 Seattle Kids Photography
Rem Koolhaas designed the Seattle Central Library, and as a fan of his work with the Prada flagship store in NYC, I felt I had to see it in person.
Kids and Architecture
I brought along a young pal for my project, Kids in Space, which documents the child's perspective of architecture and design. It's fascinating to see the difference in scale with a kid's height in a space designed for adults. And what appears on their level, versus an adult's eye level.
Nonetheless, it also seems clear that the aspects of the environment meant to wow and impress a grownup had a similar effect on this small child. Striking views and wide spaces were not lost on him. Although, he was more eager to run and play, as opposed to sit quietly in the space and read, as intended.
I wanted to let him discover the space on his own, so he was given room to roam and explore, which basically meant there ended up being a whole lot of running.
These images were shot in 2012 on an old Nikon digital camera I owned at the time — that's what made the quality of the images so film-like. It didn't capture low-light well, and it wasn't a great camera by today's standards. Yet, after letting this set of photos sit for 5 years and then pulling them out again, I saw the value of them for what they were. The "shortcomings" of the camera gave the photos unique vibe, and it reminded me a lot of when I used to shoot everything on 35mm film.
If I were to do the same photo shoot today, I would use a camera and lens that worked better in lower light, and that were better at managing high highlights and low low-lights. And technically, they would be better. But they probably wouldn't have some of the "mood" these have.
And, in embracing the moodiness of that old Nikon, I shot more like the old films I used to watch in film school — capturing high-contrast, and barely catching the light on his face in shadowy spots. I noticed how something small — say, a tiny hand — barely caught the light as he moved away from it or out of the frame. Shooting on film or creating a film has a sense of fleeting time that used to show up more in my still work, when I was dealing with the shortcomings of equipment.
I'm not quite ready to give up all that I've gained in equipment upgrades over the years, but I am now more appreciative of the images for what they were when digital recorded differently.
What do you think of the Kids in Space series? Shall I bring it back? It would be interesting to pick it up again, and compare the images I can achieve now with what I was doing 5-6 years ago.
If you like these, check out the lifestyle photography section of my portfolio for more creative and editorial-style kids shots.
Stay tuned to my Upcoming Events page to see when I might be coming to Seattle or a city near you.
And, make sure you follow me on Instagram, so you can see all the latest!