September 18, 2013
Delights: Tunes You Gotta Get + London Eye Candy
Pictured above, the London Eye. Get it? London Eye Candy? Hahaha!
This week I shazammed my way to an awesome playlist surprise, and I hope you'll reap the benefits. Been strolling around London to this soundtrack for the last few days…
A random collection of songs from my Shazam tags (do you use that app? I think it's rad, and use it to tag songs I hear whilst running around) has been accumulating since the beginning of the year. Many previously tagged songs had already made it onto other playlists, but this week, I felt it was time to move on from my summer jams, so I downloaded every remaining tagged song I hadn't yet bought.
I think the playlist turned out awesome and I kind of freaked out when I heard how good it was, considering how randomly it came about. Recommend you download the list in its entirety and listen to it on shuffle. If you haven't sat and just listened to music in awhile, this very well might inspire you.
And, now without further ado, some more eye candy from London…
Commuting to my video shoot on the subway – the don't call it "the tube" for nothin'!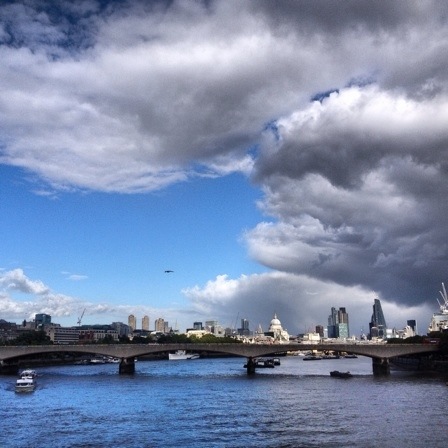 Strange Day Films produced the forthcoming video about my work, and it was a banner "Strange Day" in terms of weather. The clouds in this photo might offer a bit of a sense. What they don't convey is that between shots of me smiling in the sunshine, we were ducking into tunnels to escape crazy 5-minute downpours, one of which filled my shoes with hail!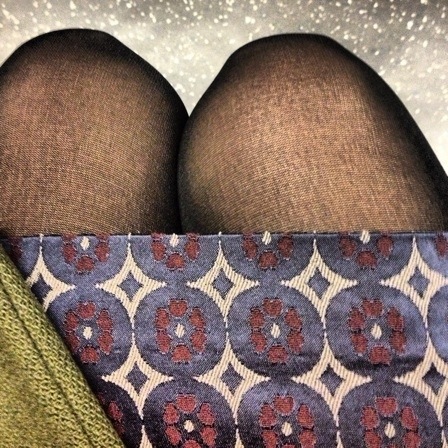 The shoot wrapped during rush hour, and I found myself dressed up and making a connection at Bank Street at 5 p.m. I call this shot, "Playing Commuter," because I haven't worn tights on a rush hour train in ages.
One of my favorite things about staying in the borough of Islington is walking along Regent's Canal. On a nice, long walk to a meeting, I came upon this little stretch of cafés built right into the walls along the water.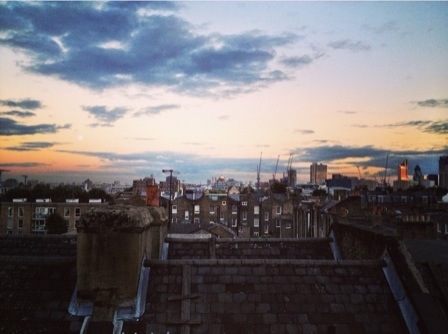 Watched the moon rise tonight from the terrace at my flat. It's tucked in from the wind and faces the back, so it's really peaceful up there. Lets it sink in that I'm in London… Kind of hard to believe some times.
Feeling very fortunate and hoping you're having a fun, inspired week!