February 4, 2014
Kirsten Alana: Change Up Your Surroundings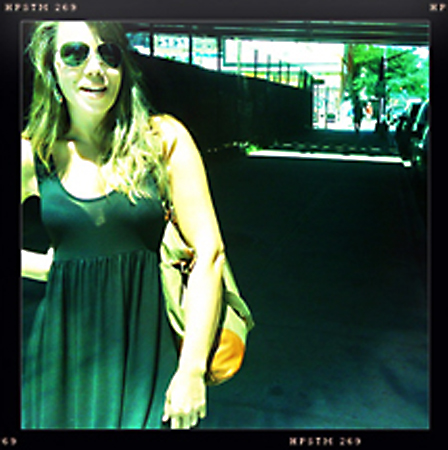 Kirsten Alana is one of those rare talents whose wanderlust informed and enhanced her creative career as she took on the world of travel photography and writing. In other words, her personal life and her creative life are inextricably entwined.  Kirsten's definitely one of my favorite people to follow on Instagram, and Paste Magazine added her to their list of 30 photographers to follow, as well.  Whether you're looking for travel or creative inspiration, KA is your woman.  I'm honored to have had the chance to profile her.
(Above is an old iPhone — we're talking 2 models ago — pic I took of Kirsten Alana the first time we met in person, in Williamsburg, Brooklyn, 2010.)
1) Does the creative process feel like an act of rebellion to you? Like you live your life outside societal norms like 9-5 workdays?
Living now, in NYC, it often does – yes. There are a lot of creatives here but there's also a very predominant 9-5 culture and my own partner has a 9-5 job (actually more like 8 to 7!) so when he comes home in the evenings, I'm quite aware of the difference in our daytime habits. That being said, I grew up the daughter of a self employed designer and painter. In that sense, the 9-5 is very foreign to me. I immersed myself in the corporate world in my twenties as a desire to avoid the pitfalls of self employment that overcame my parents lives, and often affected my upbringing, yet what I found was that for me the creative life was my comfort zone and a more traditional box was something I could never fully fit into. No matter how much I desired its supposed stability and regular paycheck!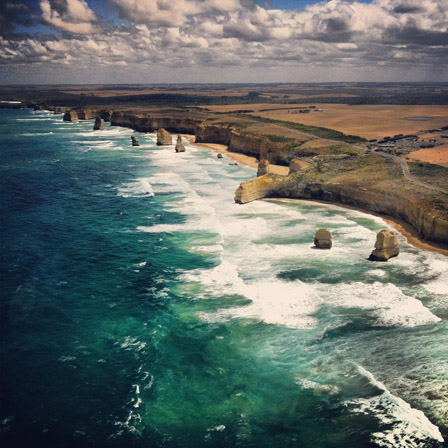 (photo of 12 Apostles, Australia, by Kirsten Alana.)
2) What's the messiest / ugliest part of your process?
I tend to be a slow starter in the morning. So I don't really hit my creative or productive stride until lunchtime. By then, most of the rest of the world is well ahead of me and I find I always think there are not enough hours in the day. I've tried caffeine, I've tried every motivational and self-help book on the planet, I've tried yoga and gym memberships. I just don't seem to be wired for it. I'm at my most creative in the afternoons and in the middle of the night. Sometimes I actually wake up at 2 AM and find I can bang out an entire project before the sun comes up. Something I might not have been able to do when it was light out!
3) What's the most beautiful / glorious part of your process?
Any moment where I have true freedom in creation.
4) How does fun come into play in your work?
I can't be very creative unless I am having fun, or at the very least finding joy in the work.
5) What is one key practice you have found to be vital to your career success? How often do you engage in this practice?
The more I compare myself to others, the more my work suffers. So in terms of practices, I've found it's vital not to pay too much attention to what my colleagues are doing. I have to choose everyday to be informed of what's going on in the industries of travel and photography but to never let that information make me doubt my own voice. (I still haven't mastered this. Which is why I practice it every day.)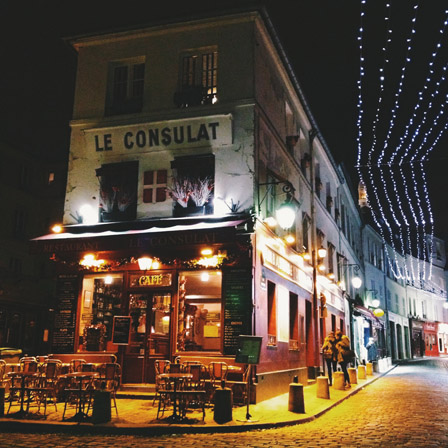 (photo of Le Consulat, Paris, by Kirsten Alana.)
6) What would you say to someone who wants to be more creative?
No excellence or genuine creativity of any kind comes without practice and constant experimentation. Go out and BE creative and if you continue to do so day after day, you'll eventually find a very creative energy simply flows from you, in a way that no longer seems like work.
7) I've known you awhile, and it seems you make the evolution of your creative process a distinct part of your brand. What motivates that?
I discovered that there are only two realities to life: that of growth or death. The same applies to what I create. If I don't evolve and grow then there is no creativity and stagnation is akin to giving up.
8) Can you talk about all the myriad skills you possess — photography, writing, etc. — and how they feed off one another?
I think of every skill I possess as being a part of what makes me, simply, me. They don't define me but at the same time, I wouldn't be who I am without those skills. They inform the way I see the world, they are the outlets through which I share the world with others and they help me to constantly move forward.
(photo of giraffe, South Africa, by Kirsten Alana.)
9) How has evolving benefited your career?  How has it benefited you personally?
I picked up a camera for the first time as a kid. I developed my own film and printed my own photographs in a dark room not long after. I've watched photography evolve by leaps and bounds in the ensuing decades, and if I hadn't evolved with it, I am not sure I'd have a career at all these days. Sure, it can be more difficult to make a living as a digital photographer than it was when 35 mm and medium format cameras were standard and the barrier to entry was higher. Yet I've watched the industry evolve with the technology and I'm convinced that following that trend myself has been of immeasurable importance.
Personally, I think it has helped me because it has forced me to always be open and always be willing to experiment with everything new that is invented. This has helped me grow as a person and as a creative.
10) What is the mindset behind willingness to evolve?  Do you have any advice for someone who would like to make a leap into the unknown but feels stuck by fear?
I did actually resist moving from a film camera to a digital one for far longer than I should have. For me, it wasn't fear but nostalgia. When I allowed myself to realize that I had the power to always hold on to, and respect, past technology while still embracing and using the new technology — it was a no brainer. There was no excuse left for me to defend not embracing digital cameras (and eventually smartphone photography). I think the same holds true with any new innovation. It never seems to replace the old entirely. All the old still exists if we want it to. I have friends with whom I greatly enjoy listening to vinyl records because we all appreciate the complexity and depth of sound that a good record and a great sound system provide. Yet I still spend most of my days listening to digital music now. We can have both.
Remember that and then ask yourself what's really holding you back. I bet if you're willing to be 100% honest with yourself, you will find any fear of the new and the unknown actually doesn't legs to stand on.
11) What tips can you share with someone who would like to travel more?  What would you say are the creative benefits of frequent travel?
Save money. Go see the world on your own dime. And as you do so, develop a portfolio of writing or photos or paintings or drawings or anything that creatively expresses what you experience as a traveler. Once you've done that, begin to market those skills to people, organizations and destinations that would benefit from that point of view. Have a personal website and an online presence that you can point to as being a source of inspiration for others who are interested in travel.
Personally, frequent travel has been my greatest muse. Constantly changing up my surroundings has been the greatest source of inspiration I ever willingly brought into my life because it represents a constant creative challenge and I seem to have thrived under that kind of challenge.
(photo of Kirsten in Mauritius, courtesy of Kirsten Alana.)
12) You've inspired me a lot in terms of smartphone photography.  Can you share any simple tips for people who would like to take better photos with their smartphones?
Treat your smartphone as being no different than a traditional camera. Shoot manually, controlling focus and exposure yourself. Apply filters with a light hand using them more to cultivate a "look" to your photography rather than to make a bad photo good (something that isn't possible anyway). And always aim for using your smartphone in natural light only.
13) What are you up to next? It seems your "title" and your career follow the flow of your interests.  How long before your audience sees it in action do you generally feel the next itch?  Or, do you often have many irons in the fire, and flow with the ones that light up the brightest?
I'd actually like to be part of a small agency or take work in a business that involved working in a team because the longer I've been self employed as a freelance creative, the more I've realized that being creative doesn't necessarily mean being good at business. In fact, sometimes they conflict horribly. In the right scenario, I'd have all the benefits of using my creative energies to the best of my ability while someone else managed the oft-difficult ins and outs of running the business and managing the financials.
In that sense, I don't actually know what's next yet. If that doesn't pan out, I have ideas and projects I am pursuing but I tend toward waiting because I want to share projects and plans when they are really ready. Not when something is half fleshed out and still a work in progress.
I definitely always have a lot of irons in the fire though!