February 9, 2014
What Children Know: We're Old Friends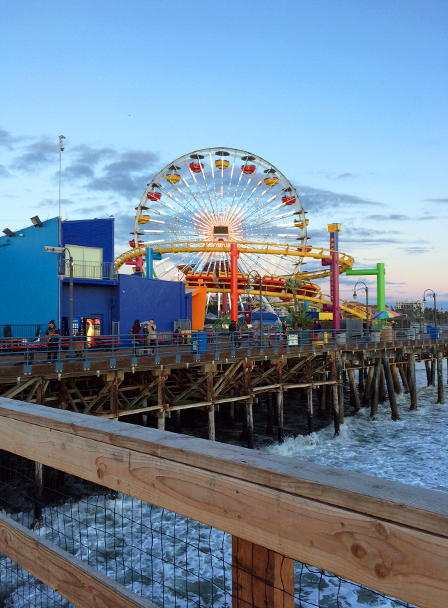 On my way to the cafe in Santa Monica this morning, I passed a gorgeous mom photographing her well-dressed and equally gorgeous son with her iPhone.  She had him standing in front of an alleyway, leaning on a pole — super cool.  From the amount of direction she was giving him in comparison to how few photos she was snapping, I sensed he wasn't cooperating.
"Hey, are you having your picture taken?" I asked him, like we were old friends.  When he looked at me, a smile bubbled up on his face, and he quickly took charge of it with a crazy toothy grin that gave way to a laugh.  "Now, that's what we want the camera to see!"
I kept walking and went about my morning routine, taking some time to sit in the sun and write at the cafe.  Now, as I reflect on my day, I realize I live for little moments like that, where one person has the audacity to treat another like an old friend.  And, the old friend can't help but agree that there's been some kind of recognition.
For the most part, I have this interaction with children.  It doesn't seem to happen as often with other adults.  On the set of a production last week, a friend's one-year-old daughter reached for me and let me hold her when I held my arms out to her, as if this would be a normal thing for her to let me do.  Her mom was shocked!  And, it only lasted for a moment, but she did reach out and come into my open arms. 
Kids know when you mean something.  They just know.  They know I mean it when I give off the vibe that I'm happy to see them.  They cannot resist this.
Probably, most adults can't either.  But isn't it weird how it becomes "uncool" to be happy to see people when we get older?  How did this become a thing?  That a mature, responsible adult is supposed to act bored and poker-faced, even when seeing someone they love or someone interesting or exciting or someone with whom they feel a connection.
Last summer I was walking down the road in my parents' town in rural Ohio outside of Cleveland.  A girl, probably about 10 or 11, was out riding her bike, and I passed her as she circled into her driveway.  When we made eye contact, we had that zap of old friendship, even though we'd never seen each other before.  We curbed our smiles, and spoke with the reserved politeness of adulthood. 
Yet, the girl proceeded to tell me everything that happened to her that day, as well as half her family history.  When her parents called her inside for dinner, I said good-bye, and as she maneuvered her bike in the direction of the house she called to me, "See you around, old pal."
I beamed.  How wonderful it is to have your sense of things validated by mutual experience.  Kids know the value of this.  One of the many things they can help us remember.
(P.S. The photos included here are some shots I took around the neighborhood this weekend. Loving Santa Monica.)