January 19, 2018
Delights: Photography Books

Photography Books
I pulled my photography books out from my book collection the other day. They've been rather pared down because I was a digital nomad for awhile, and then I was inspired by the KonMari method last year. But these 9 books I've kept.
They each have significance to me, and have impacted my memory. To me, that means, they are subconsciously part of my shooting style. I wanted to revisit them now, for creative inspiration.
The other day, I was scrolling through Instagram, which I find can be touch and go in terms of inspiration. And, it's meant to be that way. It's intentionally an open forum where people can share ideas and not everything has to be perfect.
But I found myself longing for something deeper. For images that have been curated. Masterfully created. And thoughtfully organized. So, I pulled out all 9 photo books and started going through them, one by one, and making detailed notes.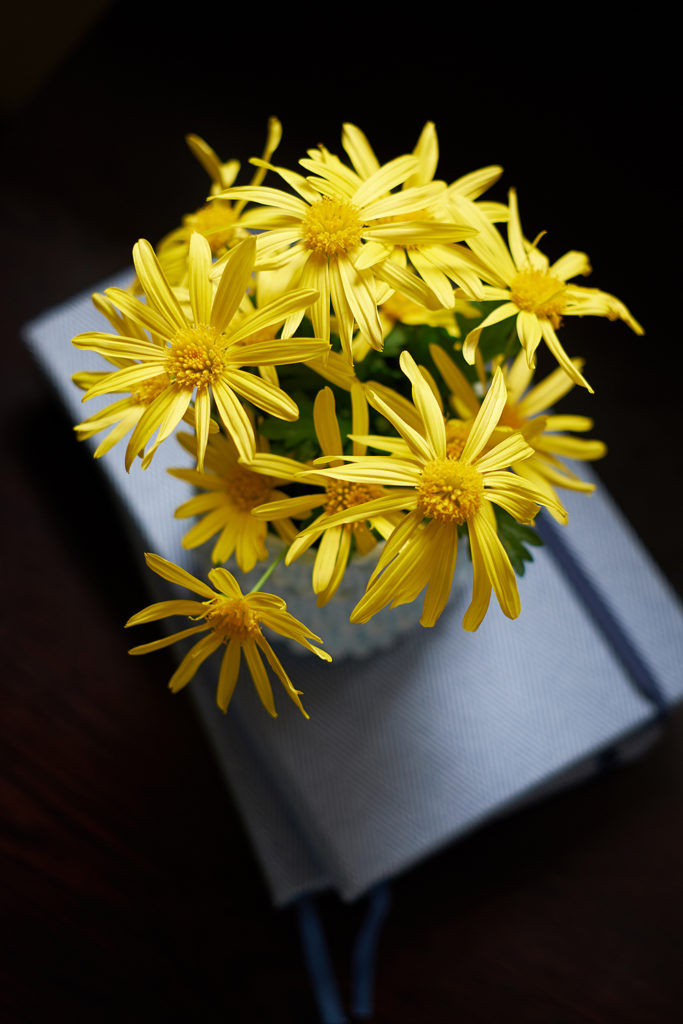 I marked down the page numbers of the images that spoke to me, and took the time to write down why. Some of them were so inspiring, I instantly had ideas for how to incorporate them into future photo shoots. Some of them were just lovely to contemplate and stare at for a moment.
So, for this week's delights, I wanted to invite you to slow down. If you own any photography or fine art books, pull them out. Put on a record, light a candle, or somehow create a little hygge for yourself. For me, having a notebook to write things in was key — otherwise, I probably would've skimmed over my thoughts and not made the effort to put them into words.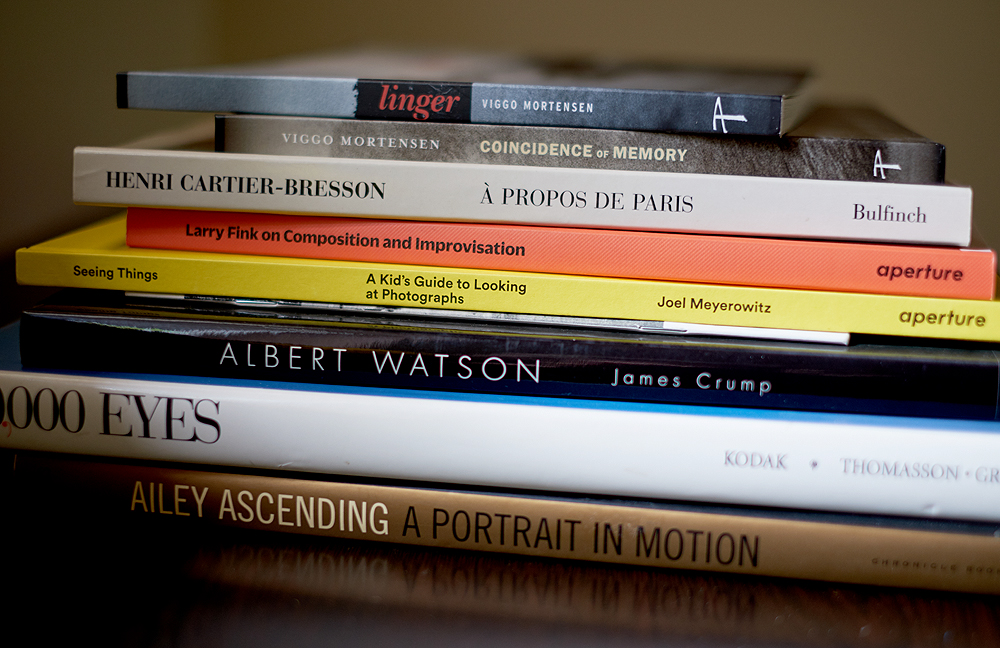 If you need some inspiration, here are the books on my shelf:
Linger by Viggo Mortensen – Yes, that Viggo Mortensen. He's a very gifted photographer. I was turned onto his photography work when I was in his home country of Iceland. They sold his books in the Reykjavik Museum of Photography gift shop.
Coincidence of Memory by Viggo Mortensen – Another from his collected works.
À Propos de Paris by Henri Cartier-Bresson – An accessible classic. Cartier-Bresson is like the introduction course into love of street photography.
Larry Fink on Composition and Improvisation –  If Cartier-Bresson is the introduction, Larry Fink represents the master class on modern street photography style. I was drawn to the word "improvisation" in this book because a lot of my professional photography inspiration came from watching jazz musicians improvise every night for many months when I worked in a jazz club when I was 21. I believe I integrated part of their approach into how I learned to welcome the unexpected when I'm photographing.
Seeing Things
Seeing Things: A Kid's Guide to Looking at Photographs – Joel Meyerowitz, a photographer whose work I so admire, created this wonderful guide for children who are interested in learning to look at photographs. It's recommended for kids ages 8 to 12. But to be honest, I think most adults could benefit from deepening the way they look at photographs. It would certainly help people learn to decipher which of their thousands of iPhone shots were truly successful and worth archiving.
Reykvíkingar by Karl Christian Nielsen – This is the book from an exhibit I got to see when I was in Iceland in 2011. I don't know whether the Reykjavik Museum of Photography still carries this memoir from the exhibition, but I enjoyed looking through these old images again of the settlement of the city.
Albert Watson – In all my years in NYC, I spent a lot of time in galleries, museums, and photo expos, trying to learn everything I could. One of my favorite lectures I got to see was with Albert Watson. He is an inventive fashion photographer whose work over the years has been highly influential on what we know as commercial photography today. I was so moved by his talk, I stood in line to get my book signed afterwards.
10,000 Eyes – When I was at University of Michigan in Ann Arbor, I had a part-time job at a professional photo lab where I sometimes waited on a commercial photographer named Stephen Graham. The lab had a huge print on the wall of his image of a girl in the water, which is also the cover of this book. Many years later, he reached out to me via email, and invited me to have lunch on a visit back to Ann Arbor. He brought me a signed copy of the book, to remind me of the photo lab days.
Ailey Ascending by Andrew Eccles – When I lived in New York, I was lucky enough to assist Mr. Eccles a few times on commercial shoots. He's a legendary celebrity photographer whose lighting is sheer perfection. He gifted me a signed copy of this beautiful book of images he created for the Alvin Ailey dance company.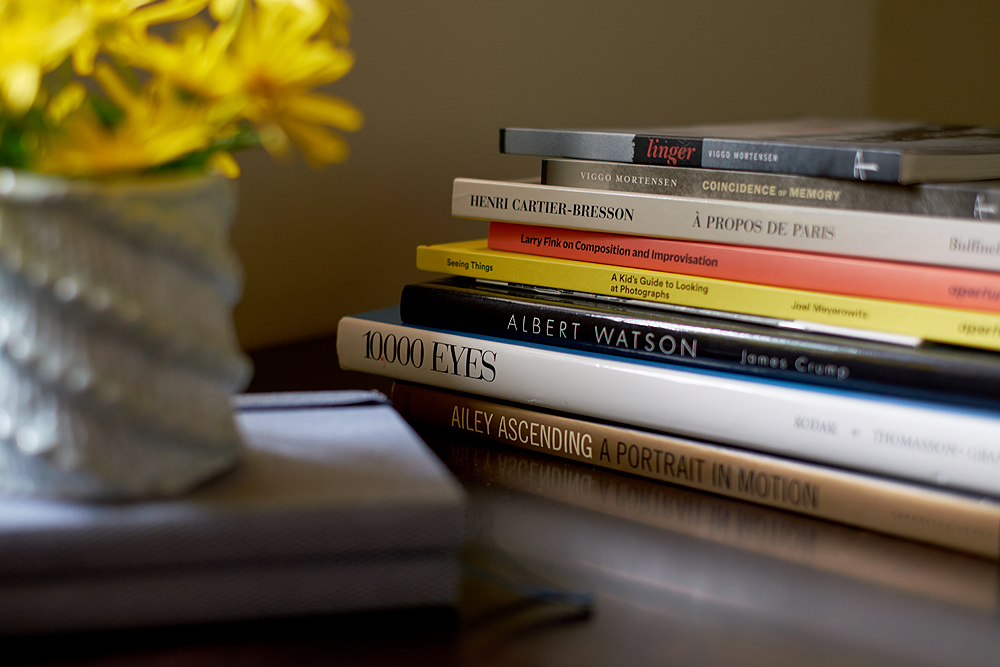 Small but Mighty
So, it turns out, my small collection has quite personal meaning for me. And, the other day, when I felt compelled to pull them all out and make notes, I was pretty grateful I had so few. Sometimes less is more, especially when you want to take a deeper dive, as opposed to an endless scroll.
Advanced challenge: If you look through any of these books, can you see the influence it may have had on any of the shots in my family and kids portfolio?
Photos shot on my Fuji X-T10. All images © Sarah Sloboda 2018; please inquire for usage.
This post contains affiliate links. Opinions are my own.